---
2/6/2018
Echinodorus Hot Pepper
The current Echinodorus plant has approached the frontal glass. I started thinking about its removal and buying a new one. I saw a very nice plant Echinodorus hot pepper on the Rataj's website that would be nice in the middle of the aquarium. Its leaves are a little kind of violet. Unfortunately, it was out of stock for long. I also found it on the www.rostlinna-akvaria.cz page in the section of plants from Netherlands. I had never ordered anything from that page, so I tried. I ordered one of this plants and some in-vitro plants as well: Lilaeopsis brasiliensis a Juncus repens.
I also ordered an aquarium pump to be able to easily fill the aquarium with water. 4Aqua 1200 l/h. At the same time I ordered a 3-meter hosepipe.
Everything came in order. I put the plants into the small aquarium for a while. I planted them in the following day. The Lilaeopsis brasiliensis plant has a problem of not keeping in the sand and fish sometimes pull them out. I tried to stick the pulled out plants back into the sand for a few days. Finally, I anchored them to bolts using a thread and I pushed it deeply in the sand. It seems that it keeps the plants at the bottom until the roots grow longer.
On eBay I found and ordered seeds of plants meant for aquarium lawn. I received them in a nice package from China but when I put them into the sand, they didn't grow. If I let them germinate for further planting, the fish will pull them out. I tried to put them into the small aquarium for a while where they grew up. When I moved them into the main aquarium, they became yellow within two days. So I removed them.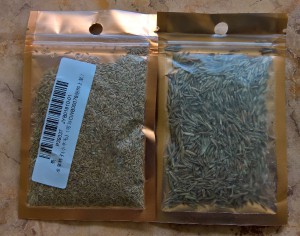 Comments
Overview of comments