---
22/1/2023
PCB design and manufacture
After a while I'm back to write something. This time I have news concerning the PCB design and manufacture. I started to design in March 2022. I could not get several components, so it delayed me. The manufacturers had reduced their production and their distributors' stocks became empty. I wanted to test important components before moving forward. In between I implemented a few things: temperature measurement and over-heat protection, current over-load protection, sleep mode when the outputs are not active. And I tested it with one-channel operation on a small aquarium for several weeks. I could not do more with the prototype, because it had problems with lots of noise. I'm sharing a few photos of the prototype boards.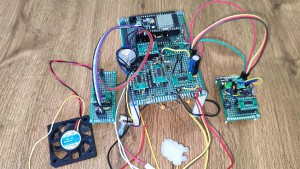 At the end of June 2022, I managed to get one of the last components I needed to test. However, there is still one component I could not get until now. So, I substituted it with another solution. I was originally considering the 8-channel design. However, when I started to position the components, I found out it would be large and influence the price. So, I reduced it to 4 channels. Still its length and width are 1.5 cm longer than I wanted. If required, I can design the 8-channel board in the future. But right now, I would have no use for it.
I was designing the board layout from summer to November. Then it was necessary to find a manufacturer. Originally, I wanted to use a firm in Prague but only to respond me took them one week and their prices were quite high. The standard manufacture time was 8 days. Then I found a firm in the Hong Kong area. Their web pages are well made. It is enough to upload the output files to their page and pay. There are many options to choose, and it immediately calculates the prices including shipping. The manufacture time is 2 days.
I uploaded the board and paid. They contacted me in the following day via Skype and wanted me to approve it before sending to fabrication. We were adjusting some details, but it was without any problem. I added the solder paste stencil to the order. Approximately one week after the upload it was in the Czech Republic. It got stuck at the customs for a few days because Fedex was trying to reach me via a wrong email. Finally, the price including Fedex and import tax was 5 times lower than in Prague.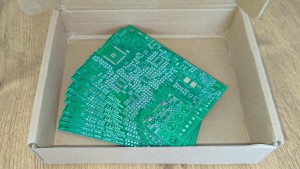 Then I needed to order components for the board. I wanted to manage it before Christmas. Unfortunately, one supplier was moving to a new system, so it took longer. Moreover, they sent me two wrong articles, so I had to claim it twice. But despite all I managed to populate the board and get it running by the New Year. It was necessary to adjust values of certain components but those are small changes.
The following video shows the unit heavy loaded on 24 V. I wanted to test it with 20 A (480 W), i.e. 5 A per channel. Unfortunately, I don't have that many LEDs and with the resistors I have at home I managed to reach 14.2 A (340 W). And I connected a car kettle to it too.
The next video shows the unit on 12 V. It is with LEDs, but the load is not big.
Next step is to test it on an aquarium for some time and work on the software.
Preview of picture in folder 01/2023
Comments
Overview of comments